HP Photosmart C7280 - Printer Copier Scanner Fax
The Photosmart C7280 is a competitively priced all-in-one printer/photocopier/scanner/fax machine.
When space is an issue in your office or home, it makes sense to choose office equipment that combines printing, photocopying, faxing and scanning. The Photosmart C7280 All-in-One is ideal for your Virtual Assistant home office, with fast, quality, reliable printing and copying.
The Photosmart C7280 incorporates OCS software and built-in fax functionality, with wireless network capability. The paper tray takes 100 sheets and the photo tray can take up to 20 sheets. Up to 90 faxes can be stored in the memory.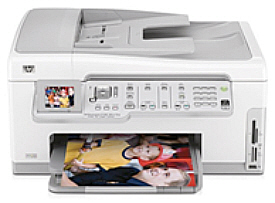 Images from a camera or memory card can be transferred using Photosmart software - part of the HP Solution Centre. The inkjet printer uses 4-6 individual cartridges and prints, 9 black and white pages per minute, and 8 colour pages per minute.
The maximum scanning resolution is 4800 x 4800 dpi. And the maximum print resolution is 4800 x 1200 dpi. This produces exceptionally sharp colour images and solid blacks.
In essence, the Photosmart C7280 is good value for money.
PERSONAL-ASSISTANT-TIPS EA/PA TRAINING COURSES
The Executive Assistant Practitioner Course
The Advanced Executive PA Masterclass
The PA Duties: Mastering The Essentials Course
In-house PA & EA Training Courses
Lunch 'n Learn mini PA Courses
EA & PA Career Mentoring
PA & EA Consultancy Services
Go to Pulse Smartpen
Go to Tools and Links Go to Home Office
Go to Virtual Assistants




From Photosmart-C7280 back to Home Page



Disclaimer | Privacy Statement | Contact Us Directly