The Livescribe Pulse™ Smartpen -it's a Note-taker's Dream
The award-winning Livescribe Pulse™ Smartpen is an easy to use digital smartpen that records as you write, and accurately plays back what was recorded while you were writing. This is achieved using an infrared camera located above the nib of the pen. It visually captures pen strokes as you write on special digital paper.
When you tap the pen on a word on the digital paper, the pen or headset plays back the phrase that was recorded when that word was written. The Pulse Smartpen also digitally records what is written using microdots printed on Livescribe dot paper. The 2GB memory can record up to 32,000 pages of text.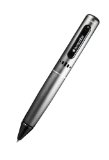 Audio can also be replayed on your PC where you can organise your notes, search for words and play back the appropriate moment in time. Synchronisation with a PC is achieved using a magnetic cradle, which is also used to charge the pen. Your notes can be uploaded to the internet and shared with anyone.
The pen has separate audio settings for lecture hall environments and conference room environments, so it's perfect for students and business professionals alike. It also has interactive features such as a translator, a calculator and a bookmark.
You will need either Windows XP™ SP2 or Windows Vista™ operating system, along with an internet connection, 600MHz CPU or higher, 300 MB minimum free disk space, and an available USB port.
PERSONAL-ASSISTANT-TIPS EA/PA TRAINING COURSES
The Executive Assistant Practitioner Course
The Advanced Executive PA Masterclass
The PA Duties: Mastering The Essentials Course
In-house PA & EA Training Courses
Lunch 'n Learn mini PA Courses
EA & PA Career Mentoring
PA & EA Consultancy Services
Go to Dell Bullet-proof Laptop
Go to Smart Board 680 Interactive Whiteboad
Go to Jawbone PRIME Bluetooth Headset
From Smartpen back to Home Page



---
Disclaimer | Privacy Statement | Contact Us Directly