Organising More Effective Meetings
Effective meetings save time and money. Meetings are the means by which things happen in organisations but they can be a drain on resources. Finding ways to reduce the amount of time your boss spends at meetings should be a priority for a Personal Assistant, particularly if her diary is full of back to back meetings.
Early Distribution of Papers – Distributing meeting papers early will add to the effectiveness of a meeting, as it gives participants sufficient time to read and digest the issues. It also serves as a reminder to complete any tasks assigned as action points.
Is the Meeting Necessary? - If your boss is very busy, make enquiries before planning the meeting to determine if the meeting is really necessary. If participants have to travel quite a distance to attend, make sure it is worth their while. If you discover that there is little to report, consider postponing the meeting; for last minute cancellations, be sure to notify participants by phone in addition to sending a meeting cancellation.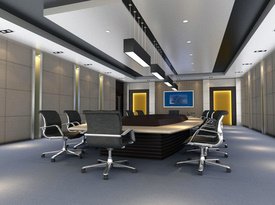 Reduce Timing - Another strategy for planning effective meetings is to reduce the length of meetings by 10 or 15 minutes. Go through the boss's diary, and where appropriate, see if you can change the 1 hour meetings to 50 minute meetings. Check with the main players to make sure this is acceptable. This will free up time in the boss's diary and increase meeting room availability.
Virtual Meetings - If a number of participants have to travel great distances to attend a face-to-face meeting, you could use conference call services or consider having a web meeting or videoconference. This is more cost effective and less stressful for participants. You should also try alternating meetings so that 1 in 4 weekly/monthly meetings is held via videoconference, web meeting or using conference calling services.
Timed Agendas - Meetings are often conducted with a loose agenda, or none at all. But agendas are essential for focusing the discussion on the right issues. Productive planning and meeting management involves doing away with loose agendas. A timed agenda is an invaluable tool for getting to the heart of the issue within an allotted time. This type of agenda will reduce the length of the meeting without compromising the discussion.
Key Players - Make sure all the right people can attend the meeting. It is essential that key people attend to progress the discussion, make decisions and commit resources.
Vary the Meeting Venue - Relocate the meeting to other branches every once in a while, so that participants take turns travelling.
Ways to avoid postponing - If you receive a last minute decline notification from a key attendee, find out if he/she can dial in. If so, turn the meeting into a teleconference using conference calling services. A videoconference would be a better option, but at short notice it could prove difficult to organise. Alternatively, ask the participant to nominate a representative who can make decisions and commit resources on their behalf.
Planning Checklist - Use a Checklist to plan your meetings. Click here to download a Meeting Planning Checklist.

Tips for Organising Your Boss For tips and ideas to help you organise yourself and your boss, see Organise Your Boss.

Go to More Tips for Effective Meetings
Go to how to write minutes
Other Meetings Issues
Other Planning Checklists
Livescribe Pulse™ Smartpen
__________________________________________________________________________
WEBSITE TESTIMONIAL
"Dear Ms King, CONGRATULATIONS for your FANTASTIC website! I am absolutely impressed of the quantity and the quality of sound, useful advice you give here. Your website is referenced in a topic discussion in the LinkedIn website.....It is really a VERY, VERY GOOD JOB the one you have done here. CONGRATULATIONS and keep up the good job!"
Damian, PA, France
WEBSITE TESTIMONIAL
I love the easy style, packed with information set out in bite-size chunks, with good headings and excellent links. Check out the serviced apartment option - always a winner for the jaded business traveller staying awhile overseas. Travel pack list provides an excellent last-minute checklist to ensure the boss has all the essentials.
CLP Consulting, Bromley, Kent, England
______________________________________________________________________
JOIN PA TIPS
GAIN FULL ACCESS TO THIS WEBSITE WITH OVER 150 ARTICLES PROVIDING ADVICE AND RESOURCES FOR PAs, EAs, ADMINISTRATORS,SECRETARIES AND OFFICE MANAGERS
£12.97
No renewal fees, No annual fees
TO JOIN ENTER YOUR EMAIL ADDRESS AND CLICK ON THE "BUY NOW" BUTTON BELOW
Then click on "PAY WITH A DEBIT OR CREDIT CARD" if you do not have a PayPal account(Pay in your currencies)


(Click here for CURRENCY CALCULATOR)
_________________________________________________________________

From Effective Meetings back to Home Page



---
Disclaimer | Privacy Statement | Contact Us Directly