If you are thinking about home office design and about to set up a home office to run your virtual assistant business, remember that size is less important that functionality. The following factors will impact the effectiveness of your home office design.
Lighting - Proper lighting is important for your home based business, and should be considered a priority. Spending hours at a time in a dimly lit work space will cause eyestrain.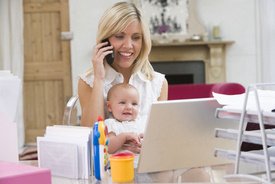 Electrical outlets - Remember that your computer system will need power outlets for the cpu, monitor, scanner, printer, speakers, and any other ancillary equipment you may have.
Ventilation - If you have ever "fried" a computer you know how important it is to keep the fan clean, ventilated and dust free. But proper office ventilation is also important to keep your mind clear and alert.
Telephone points - You will need telephone outlets for your business phone and a fax machine. Consider getting a separate telephone line for your business. It will be easier to track telephone business expenses for tax purposes. It's also important that your clients can reach you. If your clients have to compete with your teenagers for the phone, chances are, your client will call someone else.
Foot traffic - Your work at home office should be as isolated as possible. Somewhere where the kids cannot be heard screaming in the background? If necessary, adjust your work schedule to coincide with family activities. And explain to your family the importance of your work, and why you need their cooperation.
Home Office furniture and Equipment - Make sure your home office is well stocked with the usual telecommuting and office supplies. Invest in space saving equipment like a combined printer/scanner/photocopier/fax machine. Your home office should contain the following:
- a PC or laptop- a suite of software that includes Microsoft Office- Adobe Acrobat and anti-virus software- graphic design software such as Dreamweaver and Adobe Photoshop- a telephone/VoIP- a scanner- a fax machine- a photocopier- a printer - a home office desk - a home office cabinet -
an ergonomic chair or home office chair - a filing cabinet
---
What's in a cabinet? In a home office, practically everything. Many home offices are small areas tucked into the corner of a room. Apart from the desk and chair, a cabinet is the most important part of a home office. It is often the only thing that identifies the area as a home office.
Uses for a home office cabinet
• A cabinet can hold your books. Put shelves inside your cabinet if you have lot of books.
• A cabinet can hold your files. You can put file boxes or deep drawers in your home office cabinet. You can also use the cabinet to hold boxes that lock, or fireproof boxes, for private or important documents.
• A cabinet can store your office supplies. You can stack boxes of office supplies on the lower shelves of your home office cabinet.
• A cabinet can hold your office equipment, such as a printer or a fax machine.
• A cabinet can help the look of your home office harmonize with the decor of the surrounding room, or with the decor of the rest of the house.
What to look for in a home office cabinet
• A cabinet should be sturdy. Piles of paper, stacks of books, and boxes of office supplies can get pretty heavy.
• A cabinet doesn't have to be fireproof if you are storing mainly office supplies. But you might want to put a fireproof box inside for documents.
• A cabinet with locks is preferable if you are using it to store private files.
• A cabinet that looks good and fits in with the decor of your room is a great investment. If and when you no longer need a home office you can move the cabinet to another room to fulfill another purpose.
---
Child-Proofing Your Home Office
A functional home office could pose a hazard to children, and left to their own devices, children can ruin your work. Therefore, if you want to work at home, it's necessary that you child-proof your home office. A custom home office should take account of the following precautions.
Electrical cords and outlets are hazardous to children. To prevent accidents, make sure your electrical outlets are completely covered with socket covers. Organize electrical cords by bunching them with cable ties, or cord tapes. Wherever possible, hide them behind shelves or desks.
Electronic devices make great playthings. Cover your computer and all its accessories to stop your child playing with the various knobs and slits. Also, make sure your computer table has a lockable keyboard drawer.
Paper shredders are dangerous items. Little fingers can easily get caught in the shredding grills. If the shredder is not in use, remove it from your child's reach.
Secure your equipment. Safety bands and locks can drastically decrease the risk of equipment toppling over on your child.
Fasten tall furniture. Use wall brackets to secure tall furniture. Keep your drawers and safes locked to discourage your child from climbing on them or reaching up for them.
Clear your desk. Remove stationery from your desk whenever possible. Paper clips, pens, staple wires, and other office supplies can choke or hurt your child. Keep them in a locked drawer.
---

Go to Home Business Startup Checklist
Go to Office Technology
Go to How to Develop a Business Plan
Go to Tools and Links
Go to Virtual Assistants



From Home Office Back to Home Page



---
Disclaimer | Privacy Statement | Contact Us Directly