ESSENTIAL TIPS FOR AN EFFECTIVE JOB SEARCH
Once you have made the decision to change your job, that in itself should relieve some of the stress of an untenable job situation. Follow the tips below to take control and prepare yourself for a successful job search.
1) Keep Your CV Up-to-date
This is necessary because you don't want to be scratching your head trying to remember what you did over the last few years that you are proud of. A CV is a chronical of your career and will contain important information like the address of previous employers, a summary of your qualifications and a breakdown of your skills and experience. It's a good idea to update your CV after every performance appraisal and every time you successfully complete a project that was delegated to you.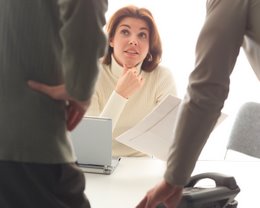 2) Do a Skills Analysis
Sometimes we get left behind in certain areas as training and technology move on so it's essential that you assess you skills and do further training to fill in gaps in your knowledge. Your experience level and instincts will tell you if you are up to par in pertinent areas. If you're strapped for cash you should be able to find information on the internet to use as a stop-gap until you can attend proper training.
3) Acknowledge Your Weaknesses
Revise answers for interview questions about your weaknesses. Most of us have a weakness or two so saying you have no weaknesses could be perceived as a cop-out. It's better to say you have dislikes, rather than weaknesses. Alternatively you could mention your weaknesses and then demonstrate how you are tackling them. For example, you could say that you are currently undergoing training or have signed up for future training. The trick is to look as though you are doing something about it.
4) Review Your Performance Appraisal
Your annual performance appraisal should, if addressed properly, give you plenty of examples of ways inwhich you have added value to your role over time. Any tasks you performed outside your job description should be noted in your appraisal, thereby presenting a synopsis of your added contribution to the organisation.
5) Stick to Your Development Plan
Put together a one year and five year professional development plan for yourself, as it is likely to be an interview question; then stick to it. Your plan should see you continuously improving yourself and your skills. It also provides a sincere answer to the question: "where do you see yourself in 5 year's time". This can be a tricky question because you don't want the boss to think you're after his/her job. Such a plan shows that you are actively pursuing your career and that your main aim is to do your job, but do it better.
6) Optimise Your Linkedin Profile
Create a profile on Linkedin and fill it in completely by filling in your specialties and past employment history. Join some of the PA groups on Linkedin. This presents a good networking opportunity and helps you to guage your own situation as compared to other PAs. You can also pick up some valuable tips and learn from others. Ask key people to recommend you - the more senior they are, the better. Making the right connections could lead you to your ideal job; however, make yourself available to do something for others, as networking is a reciprocal process.
The important point to remember is that when things go wrong and you find yourself in an impossible situation, don't stick your head in the sand and hope it goes away. Keep things in perspective - consider it a setback and be proactive. You will feel more confident about your career pathway if you are the one creating it.
PERSONAL-ASSISTANT-TIPS EA/PA TRAINING COURSES
The Executive Assistant Practitioner Course
The Advanced Executive PA Masterclass
The PA Duties: Mastering The Essentials Course
In-house PA & EA Training Courses
Lunch 'n Learn mini PA Courses
EA & PA Career Mentoring
PA & EA Consultancy Services
How to Write a Resume
Go to Interview Clothes for Successful Interviews
Go to Mature Jobseekers Interview Tips
Go to 5 Interview Questions You Should Always Ask
Go to Personal Assistant In-Tray Assessment Advice
From Essential Tips for Your Job Search back to Home Page



---
About Us | Contact Us | Site Map