---
 
Lunch 'n Learns
PA Training

Learn while you lunch!



Four 1.5 hour, 

bite-sized training courses

 for
PAs, EAs, secretaries and Administrators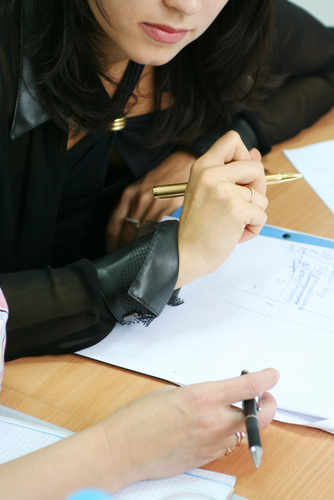 DOWNLOAD LUNCH 'N LEARN BROCHURE
HOW WE CAN HELP YOUR SUPPORT TEAM
We have provided four 1.5-hour training sessions for your EAs, PAs, secretaries and Admins that can be delivered during lunch periods to groups of up to 10 Assistants, in-house at your company's premises. You supply the sandwich lunch and we will provide an interactive session of insightful learning for your support team. Run two or thee bite-sized training sessions back-to-back or on consecutive days to enable Assistants to dip in and out as work commitments permit. 
THE AIM OF THIS IN-HOUSE PA TRAINING
Personal Assistant training and commitment to continuous professional development is the responsibility of every PA. Personal Assistants can be an asset to their organization by consistently increasing productivity and adding value in their working partnership. 
Our bite-sized lunchtime in-house PA courses provide a cost-effective and convenient alternative to full-on PA, secretarial and Administrator training. They provide an opportunity for PAs to receive training at their office at a time that is convenient for them and their bosses. Lunch 'n Learn PA training also provides a forum for PAs to examine problems and learn from each other over a sandwich lunch.  The courses are taught by our expert PA trainer, mentor and speaker, Marguerita King (page down for more about Marguerita).
OPTION 1
Effective Communication Skills
o  Writing more concisely
o  Active listening and body language skills
o  Managing difficult conversations
o  Being more assertive without causing offence
OPTION 2
Managing Your Executive
o  Understanding the objectives of the modern PA
o  Building a strategic partnership with your executive
o  Organising workflows
o  Managing your executive's time
OPTION 3
Proactive Continuous Professional Development
o Defining your personal brand
o Using LinkedIn to build your brand
o Staying on track with professional development
o The Virtual Assistant role
OPTION 4
Diary & Email Management Strategies
o  Time-saving email management systems
o  Automating your inbox
o  Improving email etiquette
o  Effective diary management techniques
PRICES
1 Option: £650.00 (inclusive)
2 Options: £995.00 (inclusive)
3 Options: £1450.00 (inclusive)
4 Options: £1950.00 (inclusive)
INCLUDED IN PRICE: The taught option delivered to up to 10 people, handouts, and applicable taxes. Prices are applicable to lunch 'n learns delivered in England and Wales. Meeting room, A/V equipment, refreshments and stationery to be provided by client.
HOW TO PAY
Payment can be made by direct bank transfer or by credit card. To request an invoice please Contact us to discuss options.
DOWNLOAD LUNCH 'N LEARN BROCHURE
Download In-house PA & EA Training Courses
---
COMMENTS
"Very useful course which raised some issues I hadn't thought of in my role. Also like the way it encourages PAs/EAs to think more of themselves and what they do."
"Some very positive objectives to aim for were given."
"Useful and informative session, thank you." 
"This was a very informative session and has given me an idea as to how I can manage and maximise my services to my boss/team."  
---
WRITING A BUSINESS CASE FOR PA TRAINING
We have compiled some excellent suggestions to help you make a case for PA training. Please click on the link below to download, or contact us for assistance in making your case for in-house PA training.
HOW TO WRITE A 
PA TRAINING BUSINESS CASE
LOCATION
Training is conducted at your office premises. Prices do not include expenses for travel outside of England and Wales.
ABOUT YOUR TRAINER
Our EA/PA trainer is Marguerita King BSc DipPA. She is the founder of Personal-Assistant-Tips and an expert world-class trainer, Consultant EA mentor and speaker.  With over 25 years' PA experience Marguerita understands the unique challenges faced by today's EAs/PAs. She has been described as "a PA guru" and "The Wikipedia of the PA profession".  She has developed some of the best PA/EA courses in the world and facilitated courses in major cities around the world.  Marguerita has written hundreds of articles on PA/EA best practice for publications, newsletters, and for personal-assistant-tips.com. Her courses consistently receive a 5 out of 5 rating for excellence.
WE HAVE TRAINED THE BEST
We have trained Assistants from a number of industries so you are in good company. Previous clients include PwC, NHS, Marks & Spencer, BP, UNESCO, ING, European Training Foundation, E-On, Symantec, Provident, Roche, The Environment Agency, The Cabinet Office, Capital One, Alstom Energy, European Patent Office, Ferring Pharmaceuticals, Moody's Investors, and Legal & General, to name a few.
---
OUR COURSES ARE PROVEN VALUE FOR MONEY
1.   You will learn from one of the best expert EA trainers in the world 
2.   Our real-world approach to PA challenges will stretch your perception of PA issues and how to tackle them
3.   Our courses are uniquely high-end in quality and exceptional value for money.
The following comments demonstrate how attendees experience this course.
MORE COMMENTS
"I found this session useful and enjoyable."
"Great course, just the right amount of information presented for the time allotted."
"Very good and informative."  
"Useful and informative session, thank you." 
---
BOOK YOUR LUNCH 'N LEARNS TODAY!
CALL: +44 (0)845 862 2687
CONTACT US BY EMAIL
---
DOWNLOAD LUNCH 'N LEARN BROCHURE
Download In-house PA & EA Training Courses
View all publicly-held courses
HOW TO WRITE A 
PA TRAINING BUSINESS CASE
---
MENTORING PROGRAMMES
Mentoring programmes for individuals and corporate groups.
JOB SEARCH MENTORING FOR EAs/PAs
---
PERSONAL-ASSISTANT-TIPS EA/PA TRAINING COURSES
The Executive Assistant Practitioner Course
The Advanced Executive PA Masterclass
The PA Duties: Mastering The Essentials Course
In-house PA & EA Training Courses
EA & PA Career Mentoring
PA & EA Consultancy Services
---
---



CAN'T ATTEND OUR COURSES BECAUSE YOU ARE OVERSEAS? TRY OUR PA MENTORING SERVICES

Via telephone and email
---
CONTACT DETAILS
Personal-Assistant-Tips
20-22 Wenlock Road
London N1 7GU
England

Tel: +44 (0)845 862 2687
Fax: +44 (0)207 183 9899
---
From Lunch 'n Learns PA Training back to Home Page 
Disclaimer | Privacy Statement | Contact Us Directly
k

---