8 Tips For Dealing With Job Loss

Job loss has become a familiar situation as companies start evaluating their bottom line. And Personal Assistants are as vulnerable as anyone else. Some are finding that their position is earmarked for redundancy.
If you are experiencing job loss, it's important to remain in control of your life and focus your energies in the right direction. It's common to fall into depression or a state of do-nothingness when you have been made redundant. But the following tips will keep you motivated for the job search.
1. Focus on Finding a Job Don't let depression take over your life. Time spent crying, moping, complaining and pondering why job loss happened to you will not get you into another position. Try to keep your mind focused on making new contacts with recruiters and employment agencies and working on your resume. Of course it's alright to feel bad and even spend a lot of time alone, but don't let that become your life.
2. Network, Network, Network Join networking groups to increase your circle of influence. Attend business networking events to stay in the game. Attend social networking events just for the fun of it because you never know who you might meet. Join a networking group that caters to job seekers - you may pick up some valuable tips and techniques that lead to a better job search strategy.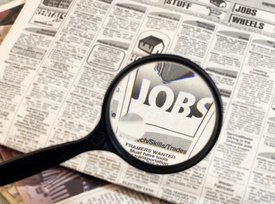 3. Use Social Media Social media is the ultimate word of mouth tool, so sign up to Facebook, Linkedin, Twitter, etc. Find out how to use these tools effectively to perform a job search. Use appropriate keywords in your search, and offer assistance to others.
4. Become a resource for others Keep in contact with others from your previous employer who have also suffered job loss. If you come across a position that you think may be suited to one of your former co-workers be sure to mention it to them. Provide as much help to others as you can. The favour will often be returned, as recruitment agencies sometimes ask candidates to recommend a friend. If you stay in contact in a helpful way with your ex-colleagues, your name will be fresh in their minds as a referral.
5. Stay organized Organization is going to become a key component as you look for new employment. You will want to apply to as many jobs as possible so you will need to keep track. Create a folder and store all of the job postings you apply for. Also record the contact details of recruitment agencies and colleagues. You don't want to make the mistake of re-applying for the same jobs but you definitely want to be sure to follow-up jobs you have applied for.
6. Update your budget When you no longer have an income you have to make certain that you re-evaluate your budget. You may have to survive on unemployment benefits and an amount from a severance package. This means that you will need to cut back on expenses wherever possible.
7. Check your spending Do you have a mobile phone and a landline? Perhaps you can get rid of one temporarily. Do you have a cable package with premium channels? Perhaps you can subscribe to basic cable or get rid of cable altogether. The trick is to scrutinize your budget to see where you can pay out less and keep more in your account to pay your credit card bills, rent, utilities. And to ensure you have food and money for transportation.
8. Find a money-maker Look for ways that you can make extra cash here and there. Often we are so focused on finding a full-time permanent job that we overlook simple things we can do to make extra cash, or other money making avenues. Offer to babysit for friends and family.
Apply for a part time job in your favourite store – this is also great for finding discounts on things you may need. If you are entrepreneurial at heart, why not start a home business, such as writing or doing research for website owners. You could also consider starting a Virtual Assistant business.
---

5 Mistakes That Can Result In
Work From Home Scams
Many people are suddenly finding themselves out of work or about to face redundancy. The reality is, in most cases there are very few jobs out there. It's understandable that people who find themselves out of work would look for others ways to earn an income while searching for a job. That is why knowing how to identify a work-from-home scam is important and a natural part of the due diligence process. Anyone thinking of engaging in such a venture should be aware of the following pitfalls.
1. Not Checking For a Website
The most fruitful part of your due diligence will be checking out the company's website. Scant information is a good indication that there's not much going on. Look for an About Us page. This page should explain what the organisation is about.
2. Not Contacting the Company
You should know the name of the company, it's location, telephone number and email address so check the website for a Contact Us page. Make sure that the telephone number and email addresses actually works.
3. Not Visiting The Company
If possible visit the company. Alternatively, attend one of their trianing days or conferences to meet the management team.
4. Not Googling The Company Name
Google the company's name and add +scam to the search string. This will return other people's opinions and experiences. You can also add the word +review to the search. Look beyond page 1 of the search results. Put quotation marks around the company name to narrow the search. You can also do a search on the company's telephone number or post code.
5. Paying The Company
As a general rule you should not pay money to a company up front to get permission to work for them. Some companies request that you purchase their product; that's ok provided you actually need the product. If you don't you should think carefully before parting with your money.
PERSONAL-ASSISTANT-TIPS EA/PA TRAINING COURSES
The Executive Assistant Practitioner Course
The Advanced Executive PA Masterclass
The PA Duties: Mastering The Essentials Course
In-house PA & EA Training Courses
Lunch 'n Learn mini PA Courses
SEE ALSO:
Go to Job Interview Mistakes
Essential Tips For an Effective Job Search
Go to Personal Assistant In-Tray Assessments
Go to The 40 Most Common Job Interview Questions
Go to 5 Interview Questions You Should Always Ask
Go to Mature Jobseekers Interview Tips
From Job Loss to the Personal Assistant Home Page
---